FP-9000 HDTV Outdoor Antenna with Rotor and Remote Control
Our Outdoor HDTV Antenna is one of the most powerful on the market with up to 36dB Gain and a range of 150 miles. This HDTV Antenna is designed to receive Digital TV UHF/VHF signals and provides the highest quality HDTV picture available. Enjoy watching HDTV shows for free!
Antenna receives UHF/VHF/FM signals and will broadcast both High Definition and Standard Definition channels
Free HDTV channels that you can watch in 1080p or 720p depending on the broadcast signal and your TVs resolution capability
36dB Yagi Antenna
Weather resistant
Reception range up to 150 miles from broadcast towers (please read below for more information)***
Low-Noise and High Gain Amplifier is built in
Built-in motor rotor turns the antenna 360 degrees
Rotor turns in both directions to avoid tangles
Wireless remote controller for rotor – rotate the antenna to find the best reception all from the comfort of your living room
Motor rotor is powered by the low voltage coaxial cable that runs from the control box to the antenna, so there is no need to ground the antenna or run a separate power cable
Control Box with Dual TV Outputs is included
Will support multiple TVs
Dimensions: Approximately 20′ x 29′ (L x W)
Power: 15V 3A Power Supply is Included. Motor is powered by the coax cable that you run from the control box to the antenna. Because power is distributed over the coax calbe, a power outlet is not required outside where the antenna is mounted.
Easy Installation
Mounts to a pole up to 1" in diameter (pole not included)
Click Here To Buy Our J-Pole Mount That Is Compatible With This Antenna
Package Contents
One – HDTV Yagi antenna with built-in roter & amplifier
One – Rotor control box
One – Remote for rotor control box
One – 40Ft coax cable
One – 4Ft coax cable
One – power supply for rotor control box
*****150 mile reception range is for the optimal situation where all the variables that can affect a signal are favorable (ie: line of sight to broadcast towers, antenna positioned at the best height, weather, strength of signal broadcasted from the tower, etc, etc). Actual range may vary and is highly dependant on your location and the variables previously mentioned. Please search Google for 'FCC DTV Reception Map' and enter your zip code to get an idea of what channels you can expect to receive with this antenna.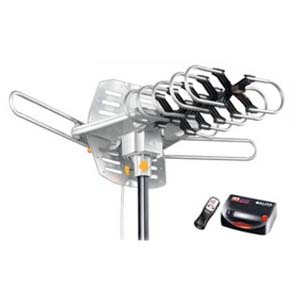 Shipments will be sent via the United States Postal Service, UPS Ground, or UPS SurePost. To help keep our prices low we will ship your product via the most affordable method of the three which is determined by our "rate shop" calculator which determines our shipping cost based on the size and weight of the package, the delivery zone, and whether the delivery is to a commercial or residential address. Generally, but not always, packages being shipped to a commercial address or packages weighing over 9 lbs will ship via UPS Ground. Residential packages weighing less than 9 lbs will usually be delivered by USPS.
Because your package may be delivered by either UPS or USPS please provide your physical shipping address, and if you have a PO Box for USPS shipments then please provide that with your shipping address as well.
No matter what delivery method we use, you can be assured that we will ship your order out as quickly as possible. We ship all in stock orders the same business day as long as the order is received by 3pm CST. Any orders received after 3pm CST will ship the following business day. Please keep in mind that any orders made after 3pm CST on Friday will not ship out until the following Monday.
The map below shows the delivery estimates for UPS Ground Shipments. This is just for reference if your package does ship UPS Ground. If your order ships via UPS SurePost one business day will be added to the delivery schedule below. If your order ships via USPS then your order will be delivered anywhere between 1 to 5 business days depending on the delivery distance from our location in Springdale, Arkansas.
UPS Ground transit times:

Returns and exchanges are accepted within 30 days of the receipt of the merchandise. A full refund or exchange will be given if the merchandise is found to be damaged, defective, or not as described in the auction. Returns for any other reason will get a refund minus the cost that was incurred by FOURPAIR Teledata to ship the item.
Before making a return, the buyer must contact FOURPAIR Teledata through the Ebay message system in order to obtain a return approval number, or the return will not be accepted.
---
On Aug-30-18 at 17:41:32 PDT, seller added the following information: