Package: NYC Acoustics X-Tower Dual 4′ Bluetooth Party Speaker w/ Sound Activated LED's + Remote + Rockville RMC-XLR High-End Metal DJ Handheld Wired Microphone Mic w (2) Cables+ XLR Cable and Mic Clip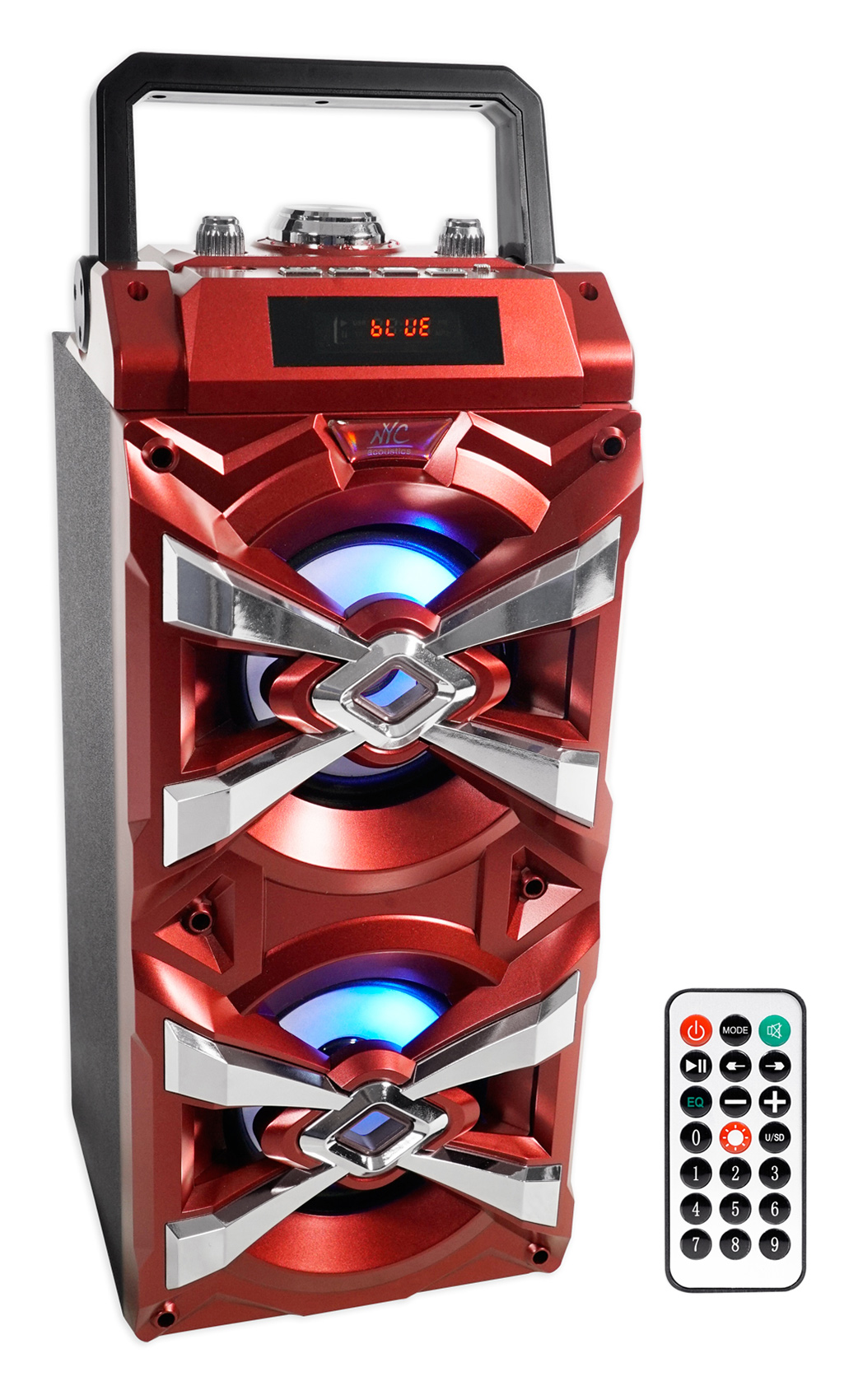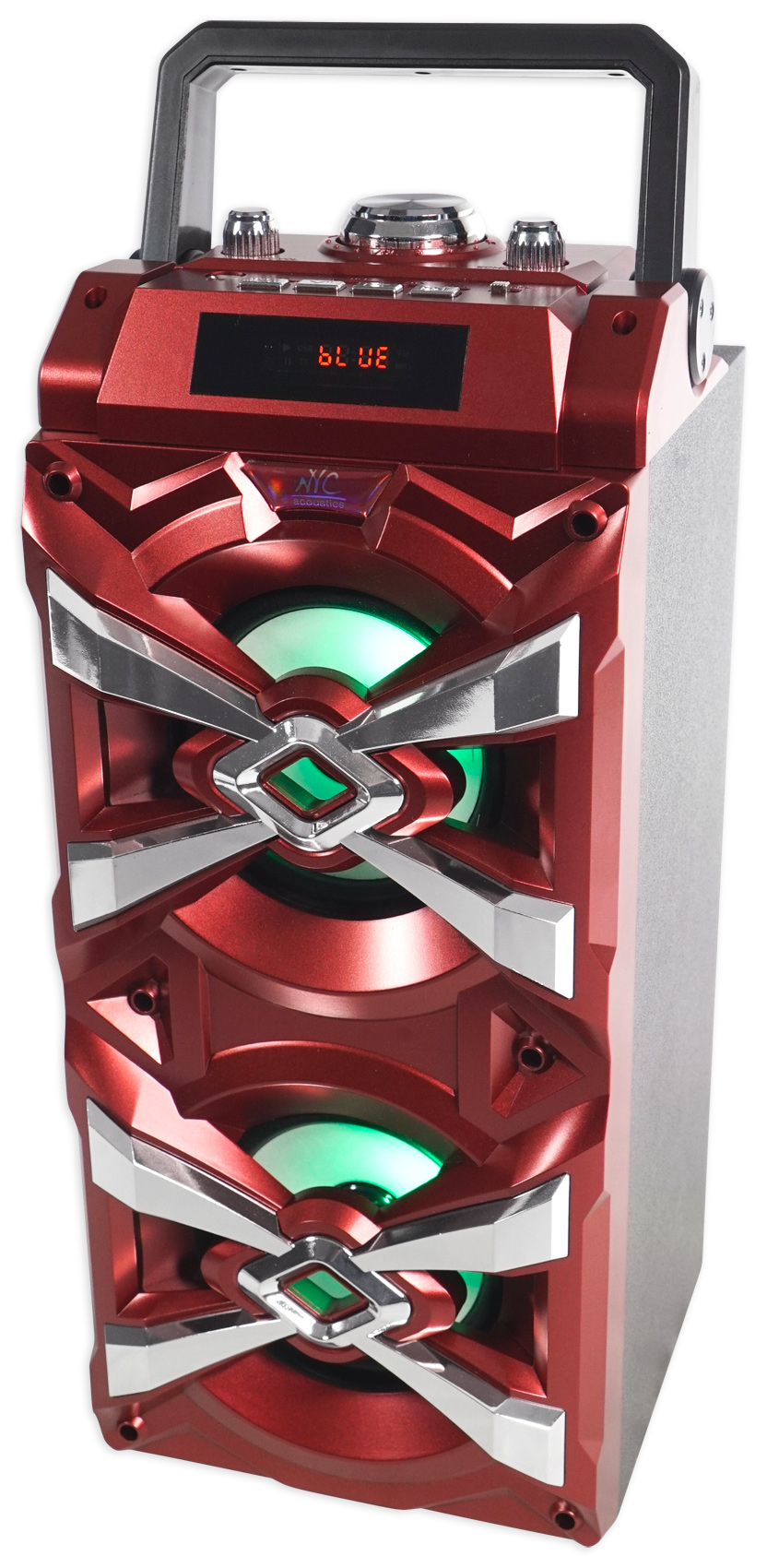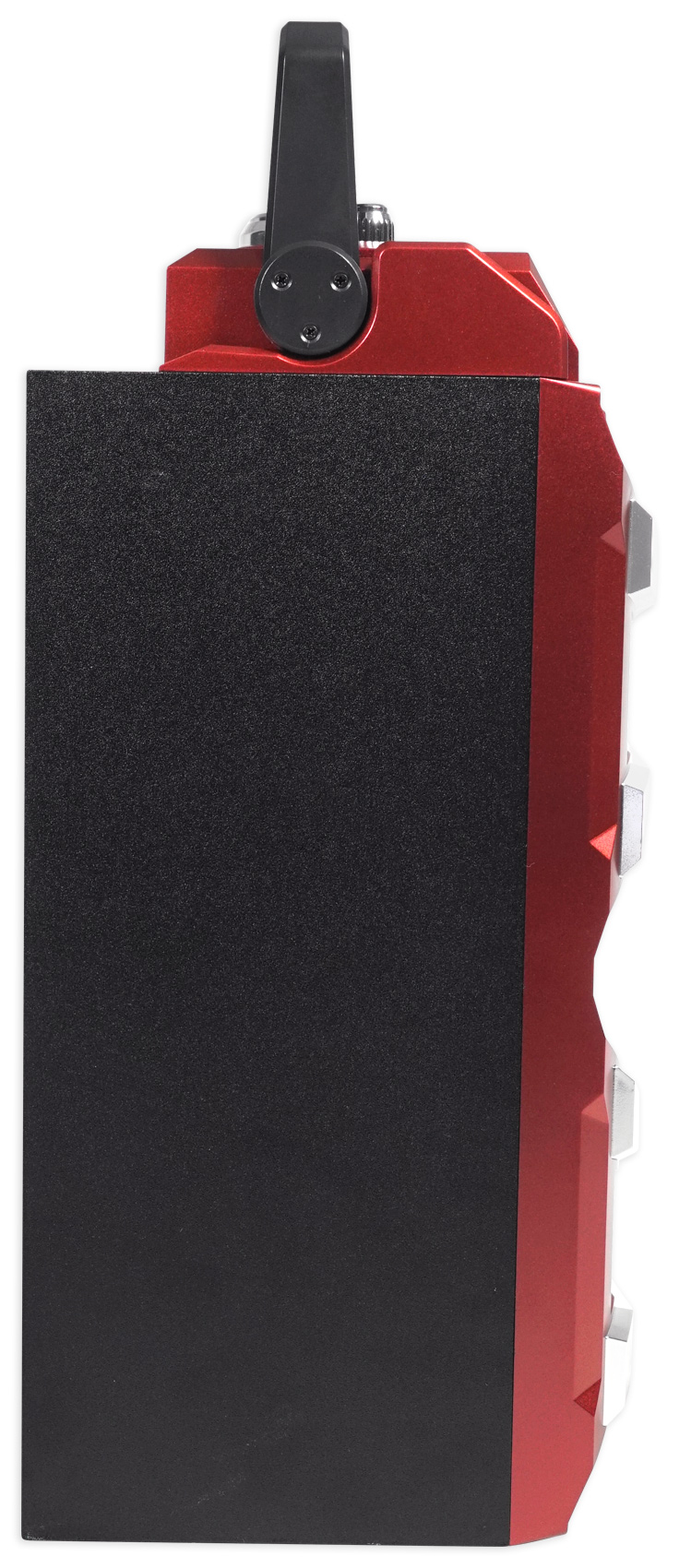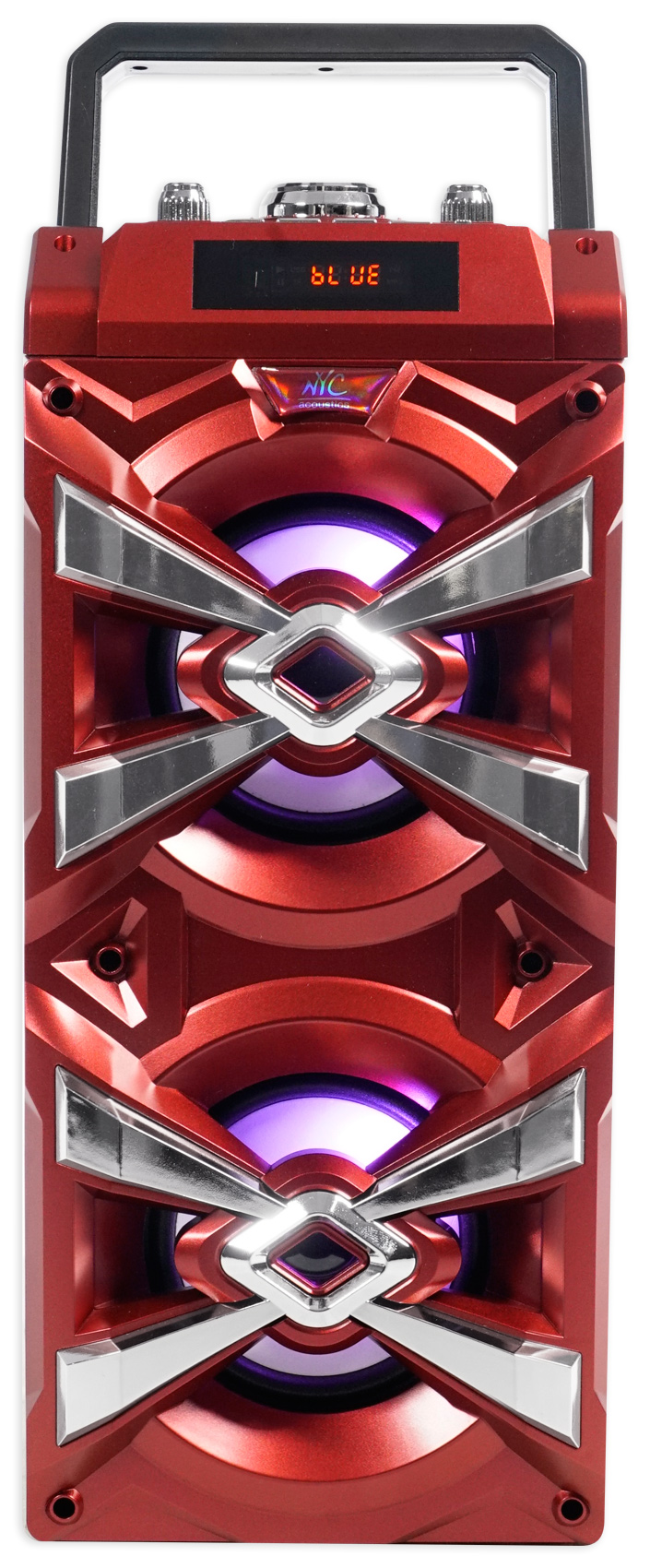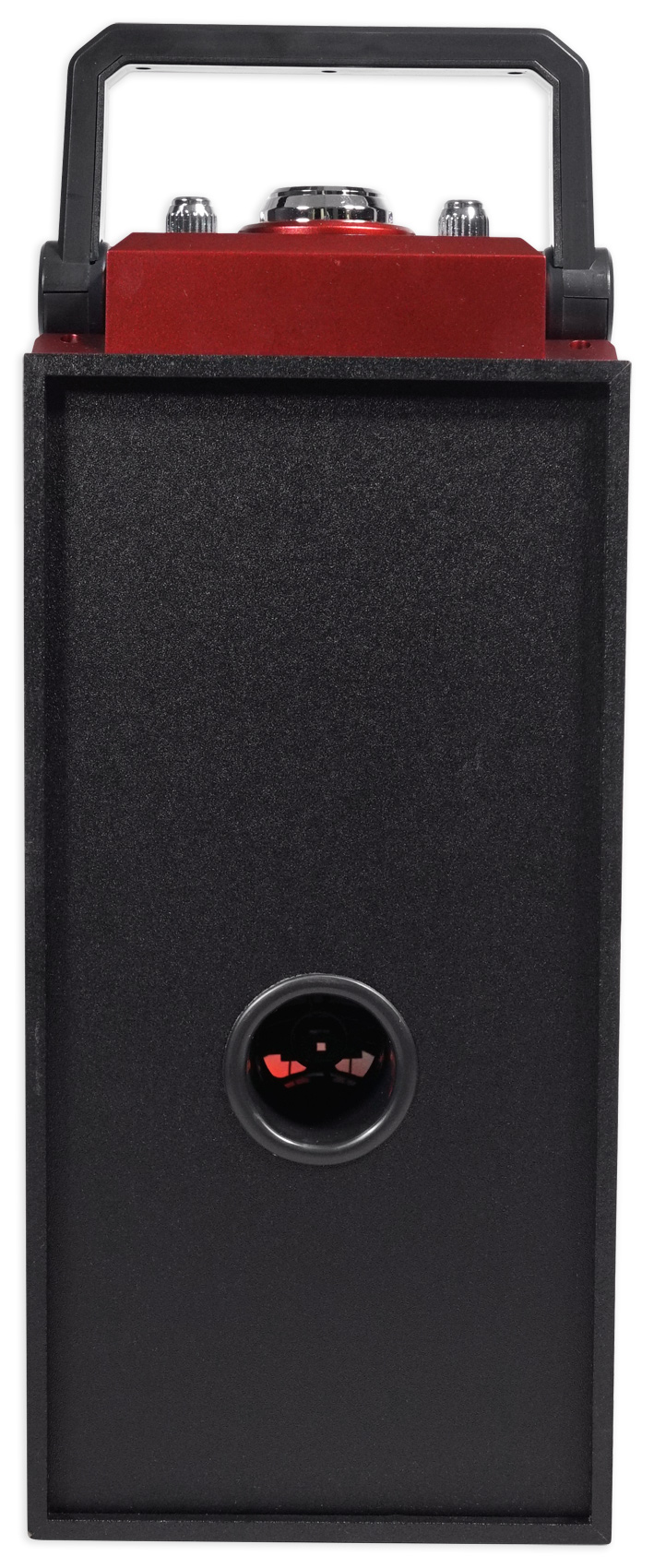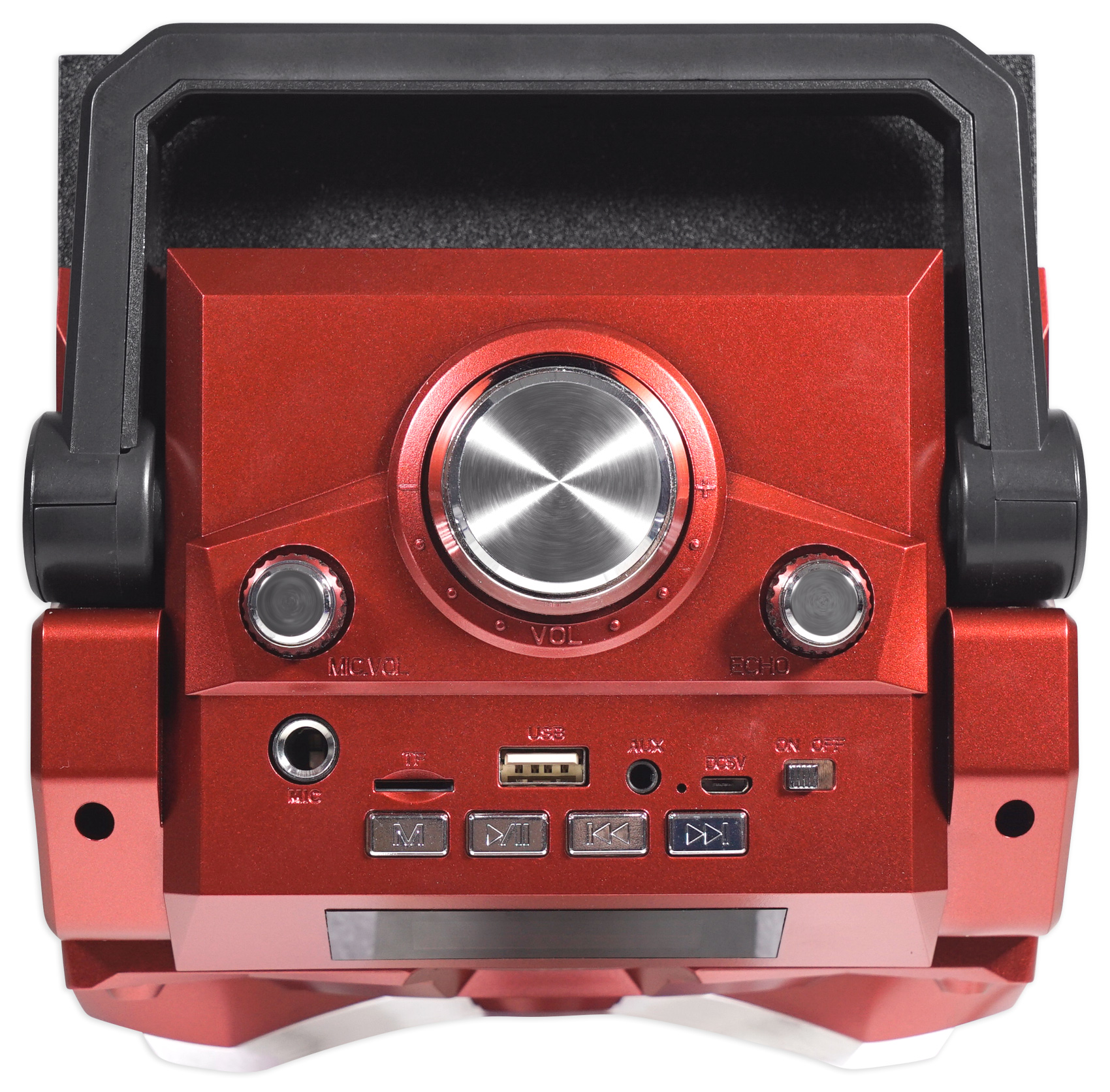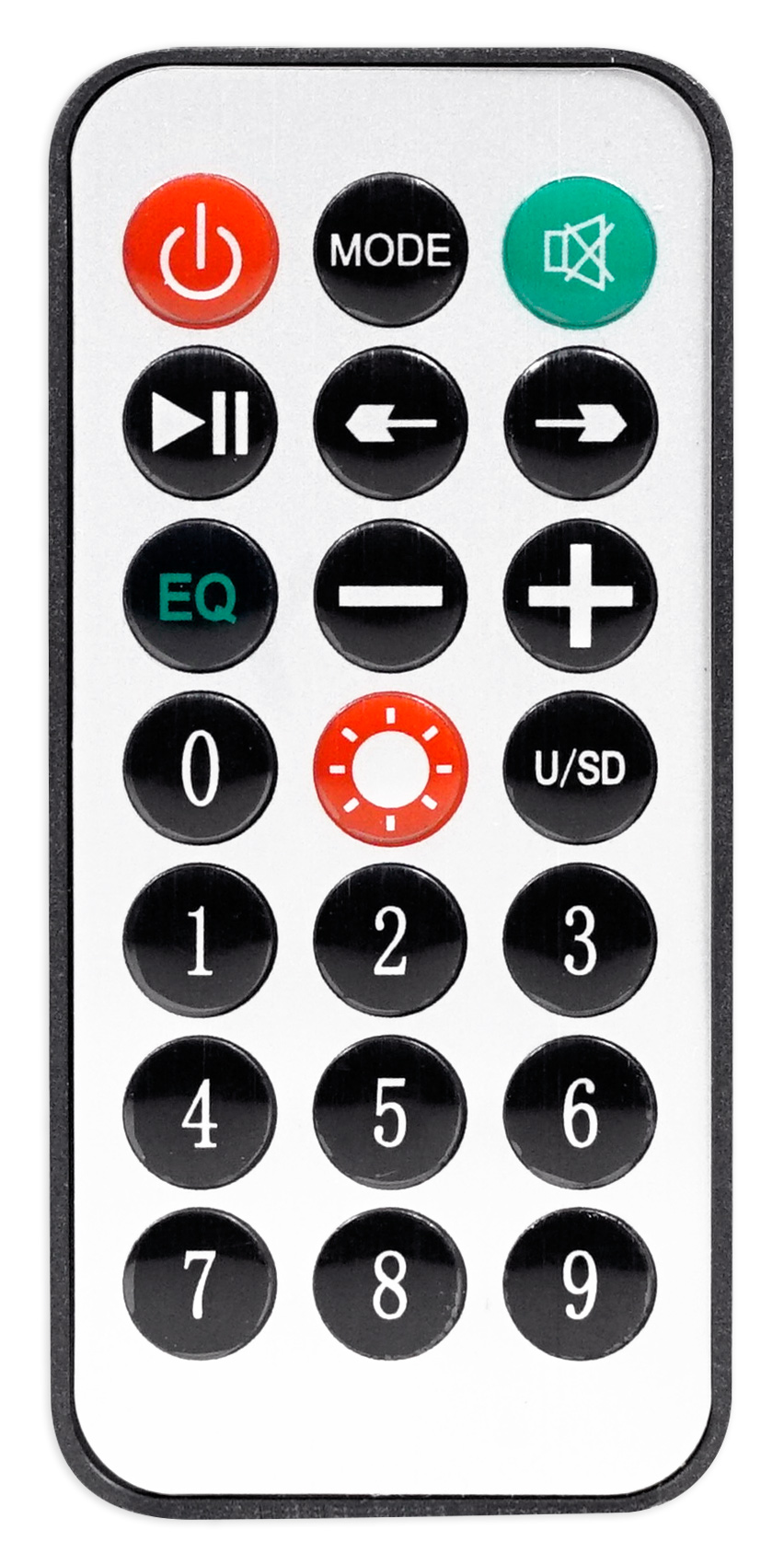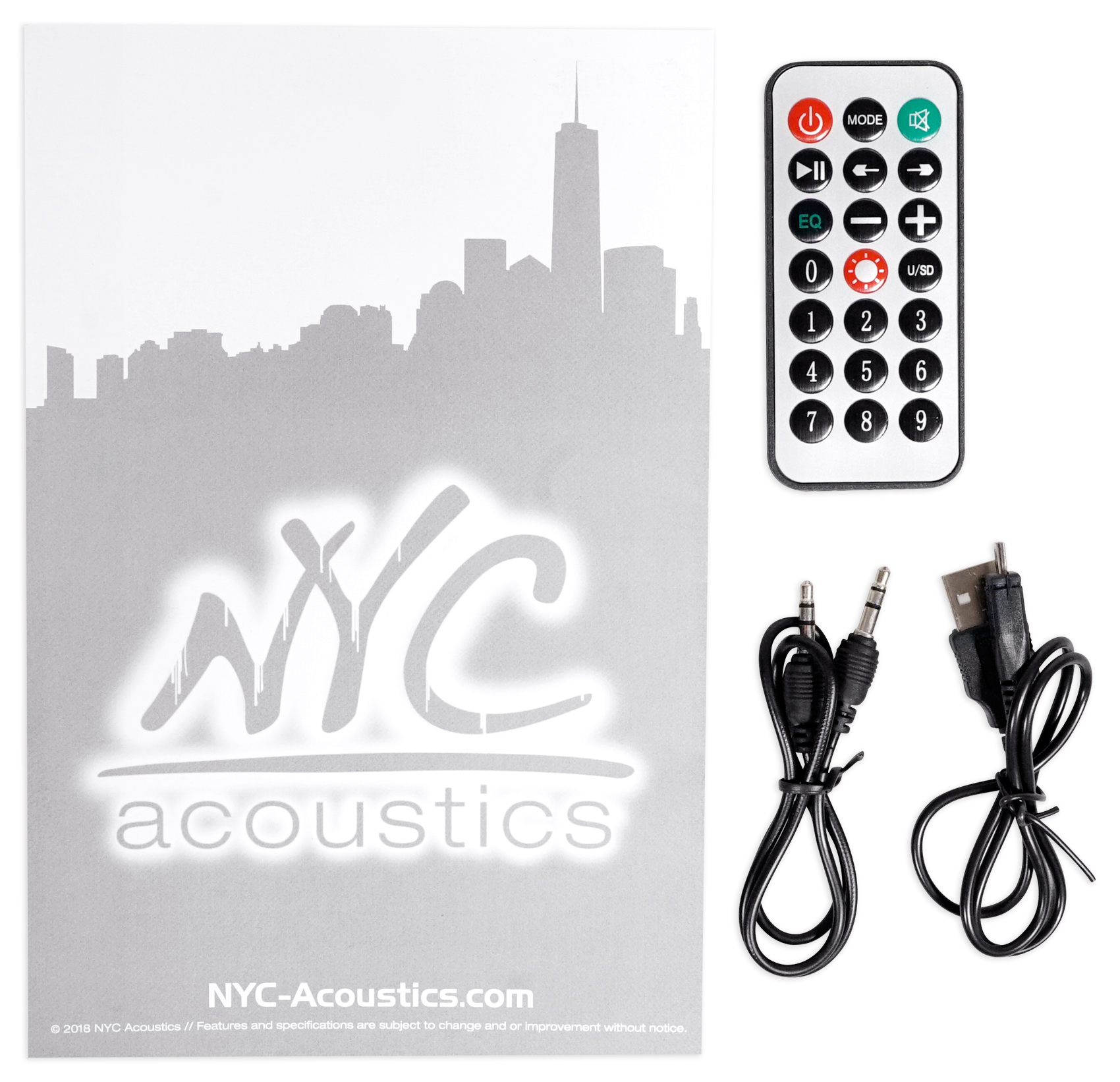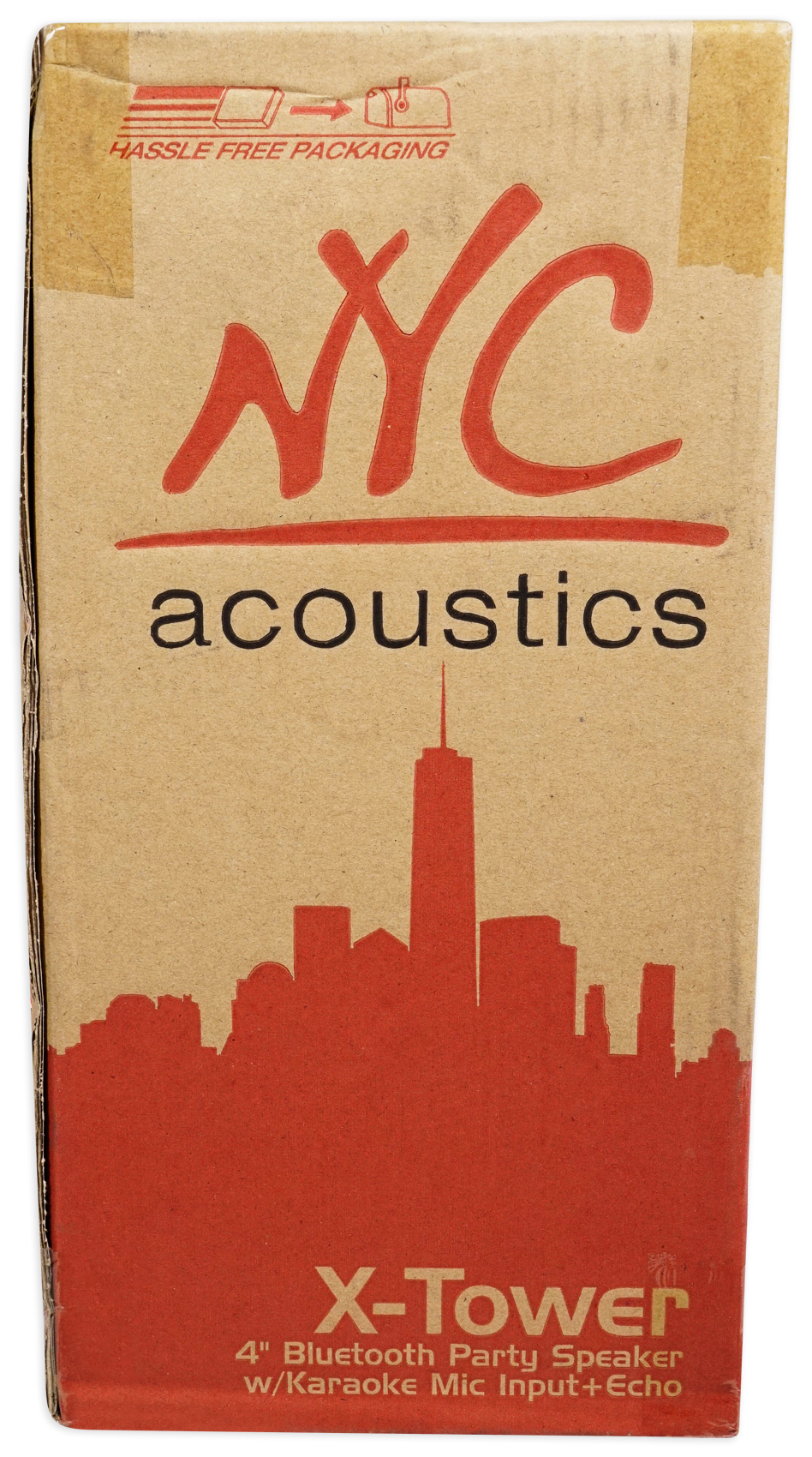 Click Thumbnails to Enlarge
Condition and Warranty
Condition: BRAND NEW IN ORIGINAL PACKAGING
Warranty: 1 YEAR AUDIOSAVINGS
Product Description
Package Includes:
(1) NYC Acoustics X-Tower Dual 4′ Bluetooth Speaker w/ Sound Activated LED's+Remote
(1) Rockville RMC-XLR High-End Metal DJ Handheld Wired Microphone Mic w (2) Cables
---
What's In the Box:
(1) X-Tower Bluetooth Speaker

(1) Remote Control

(1) Micro-USB Charging Cable

(1) 3.5mm Audio (Auxiliary) Cable

User Manual

Warranty Card
Features of X-TOWER:
NYC Acoustics X-Tower Dual 4′ Party Bluetooth Speaker
with Karaoke Mic Input and Echo

Peak Power Handling: 50 Watts

Continuous RMS Power: 22.5 Watts

Signal to Noise Ratio: 80 dB

Frequency Response: 100 Hz – 20 kHz

Distortion: > 1.0%

Dual 4′ Built-In Speakers

3.5mm Aux Input

1500 mAH Rechargeable Battery: Supports 12 Hours of
Playback at Mid-Volume

Charge Time: 3-4 Hours

Bluetooth Range: 35 Ft.

LED Display Screen

Built-in mic input with echo control and mic volume
control for karaoke
LED Illumination goes to the beat of the music – can
be turned on or off
Playback Options: TF Memory Card (up to 64 GB), USB
Thumb Drive (Up to 64 GB)
Built-in limiter circuit eliminates distortion –
Distortion free playback even at top volumes
Bluetooth Version. 3.0 with Enhanced Data Rate for
low latency Bluetooth playback
Perfect for karaoke, house parties, camping, bedroom,
kitchen and many other applications
Playback Controls: Play, Pause, Skip Forward, Skip
Back, Mic Volume, Music Volume, Echo, On/Off Switch
Compatible with any Bluetooth devices such as
Smartphone's, Tablets, MP3 Players, and more!

Product Dimensions: 6.24" x 6.63" x 13.65" inches

Product Weight: 3.82 Lbs.
---
Video of RMC-XLR:
The
Rockville RMC-XLR is the same exact microphone we use in our Pro Mic
Kit 1 microphone/stand bundle. This mic was created because we saw a
need in the market for a high-quality microphone at an affordable
price. We found there were a lot of good mics around from reputable
brands that sound great but are very expensive. When we looked at the
cheaper mics on the market from both reputable and entry-level brands;
we were not impressed at all. As a result, we sent our very own product
developers on a mic testing journey. A lot of our employees here at
Rockville loves to do karaoke, so it was not long before we found a mic
that we all loved.
You may be asking yourselves, so what makes this mic sound so good?
There are 3 main components that make a mic sound the way it does. The
cartridge, the magnet, and the mic cable. Our mic uses an M-56
the cartridge which has a neodymium magnet. This combination of components
supplies better sensitivity; which means your mouth will not have to
be on the mic for it to pick up the sound. Our components supply more
than a great pickup pattern. They have very little background noise and
great tone.
We pay a lot of attention to detail. We could have saved a lot of
money and got our cost down by including a cheap cable, but we know
how important the cable is. We are very passionate about our products
and we really have a lot of respect for our customers. For this reason
alone we included 100 % OFC copper cables. There is no aluminum in
this cable! It is Pure oxygen, free copper. What this means is that the
cable will last longer and will sound a lot better. You will get a
distortion-free signal. We use a true gauge mic cable with proper
thickness.
The body of the microphone is also something we paid a lot of
attention too. We did not want it to be too light and feel cheap. We
made a nice solid metal microphone. It has a great feel to it. We
could have gone with plastic or cheaper metal, but we wanted to go
with a mic that we ourselves would want to use.
90 Day Money Back Guarantee including
return shipping!
If
within the first 90 days you are not 100 % satisfied for any reason,
contact us and we will send you a return label and give you all your
money back! (Item must be returned complete with all accessories and
the original box please).
What's Included:

Fully
metal wired mic

(2) 100% OFC Copper Mic
cables (XLR to ¼" + XLR to XLR )

Mic
clip

Plastic
carry case

Owner's
manual

Warranty


Features:
Rockville RMC-XLR High-End Metal
Handheld Wired Microphone Mic Amazing Sound!
Mic
Features:

M-56
Cartridge

Full
metal mic body

Type:
dynamic

Neodymium
magnet

Polar
Pattern: uni-directional

Frequency
Response: 80 – 13Khz

Impedance:
600 Ohms ± 30%

Sensitivity:
-72 ± 3dB

Case
Features:

High
quality plastic carry case protects the mic during transportation

Comfortably
holds microphone and mic cable

Cable
Features:

XLR
to ¼" Cable
XLR to XLR Cable

10
Feet each

100%
OFC oxygen-free copper

Cable
delivers crystal clear distortion-free signal

Cable
is 5 MM thick with cover (22 AWG standard mic cable)

XLR
cable connectors are very solid and durable

Mic
clip Features:

Heavy
Duty Standard Size Microphone Clip

Stand
Mountable

Solid
Plastic Construction with copper inside (the part that screws to the
mic)

Black
Color
Return Policy
AudioSavings Return Policy:
At Audiosavings, we strongly believe in customer
satisfaction and therefore offer free return shipping within 30 days of purchase
on all items returned to us within the continental USA.
Prior to returning merchandise, contact us and we will give
you a return authorization # and a return label.
You may return this item for a refund within 30 DAYS of purchase.
Warranty Repair/Exchange Period: 1 YEAR
If your item is defective or you want to return it for any
reason within the first 30 days of when it was delivered to you; you have the
following options:
We will send you a

pre-paid shipping label

to replace the item for a brand new one.
We will send you a

pre-paid shipping label

to exchange the item for another item of your choice. If the item you chose is more or less money we will work out the price difference with you.
If you are returning a working item in used condition for a refund there will be a
20% used item fee deducted from your refund. All replacements and exchanges are
free.
Replacement/Processing Time:
Your replacement or refund will process within 3-5 business days of when we receive the item.
Please note items with physical damage un-related to shipping are not covered under warranty. This includes blown speakers with burned voice coils. Registered software cannot be returned.
You MUST notify us within 48 hours if you receive an item that was damaged during shipping.
Process for returning items
Please email us with your eBay user ID, Item code/model #, Condition of the item, and the reason for your return. Please also indicate whether you would like a replacement, an exchange, or a refund. We will supply you with a reference number (RMA #) to put on the package which will ensure quick processing of your return. All returns require an RMA# to be returned back to our facility.
Item Code: X-TOWER+RMC-XLR KAR